Medieval Collectibles has a large variety of functional arming wear. We have padded Gambesons and Arming Caps which provide a more comfortable fit and reduce pinching from the armor when you are moving. Our Gambesons are stylish, comfortable and made of quality materials. The Gambeson is worn underneath chain mail and armour and normally both helps to protect the body from the impact of weapons and provides some degree of comfort to the wearer. Our Gambeson Set, made from a cotton shell with a captive fiber fill, is designed to make the wearing of mail reasonably comfortable while providing freedom of movement. The Gambeson set includes a matching Arming Cap, essential to the wearing of a chain mail coif. Arming caps are also used to provide padding when wearing a medieval helmet.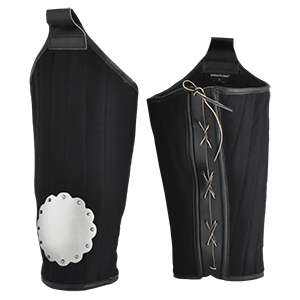 Read More
Your arms and legs are some of your most important assets in a fight, so be sure to protect your limbs the way they deserve! At Medieval Collectibles, we offer an assortment of arming wear pieces including a number of arm and leg padding options. Our padded bracers, padded greaves, padded cuisses, and the like will ensure that you will experience a minimum of rubbing, pinching, and sliding when you wear your medieval armor. Our armor padding is carefully constructed, many pieces with quilting and adjustable laces. Several of our leg padding options come with re-enforced knees to help you get a full life out of your padding and to provide additional protection. Whether you are looking for a medieval, crusader, or gladiator style, we having the ideal arm and leg armor padding for your needs!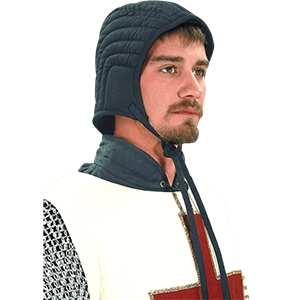 Read More
We have a variety of padded arming caps for wearing under your helmet or chainmail coif and mantles that make wearing armour on your shoulders more comfortable. Medieval Arming caps give added comfort and sometimes help by making the helmet fit better. Our arming caps come in different sizes and colors. Medieval Arming caps can also be use for when it is cold outside to keep your head and ears warm. Our Medieval arming caps are quilted and re-enforced to provide durability and strength for continued use. Our selection of padded shoulder protection is great for wearing under pauldrons, body armour and chainmail coifs.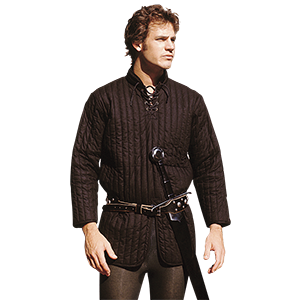 Read More
If you are wearing steel armor a gambeson or padded under armour is a necessity for you. These Medieval gambesons will help eliminate being pinched by the steel armor every time you move. Medieval Gambesons are very popular for wearing under leather armor and chainmail armour for added comfort. Medieval gambesons come in a variety of colors that range from black, brown and white. Our functional gambesons come in sizes from small to extra large.