All a gargoyle has is time, especially when it is spending the long hours of the day trapped in stone. That makes gargoyles and sandtimers a perfect pairing, as evidenced by our selection of gargoyle sandtimers. Not only perfect for peacefully watching the time pass by, our gargoyle sandtimers make great display pieces. Our gargoyle hourglasses and sandtimers come in a variety of shapes and styles, ranging from classic hourglasses that feature gothic gargoyle accents to stunning fixed-base sandtimers that have a rotating hourglass at the center. Each and every one is impressive in its detail, possessing a look and feel that will lead others to believe that they are made of stone or that they are real, miniaturized gargoyles! Whether it is an independent hourglass or a fixed base sandtimer, these gargoyle home accents are great for timing things like turns in chess games. Each sandtimer can measure a different length of time, though, so please be aware that not all sandtimers measure the exact same period of time. Of course, you do not have to use them as functional sandtimers. You can, instead, just use them as brilliant and decadent display pieces. They perform remarkably well in this capacity, serving to capture the eye of whoever looks their way. And that makes each of our gargoyle sandtimers great gothic decorations to have, as well as great gifts to give to those who like the wild world of eerie and gothic medieval decoration.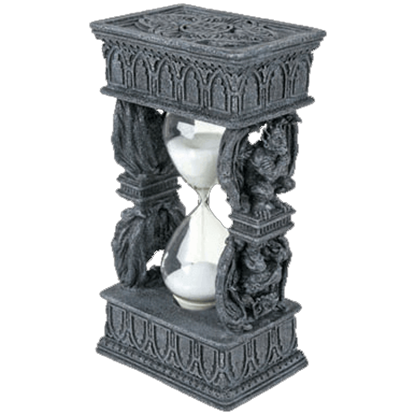 Item # SC6842
This gargoyle sandtimer is a great accent piece for your home. This sandtimer features four gargoyles supporting the sides of the sandtimer. The gargoyle sandtimer has elaborate designs covering the sandtimer.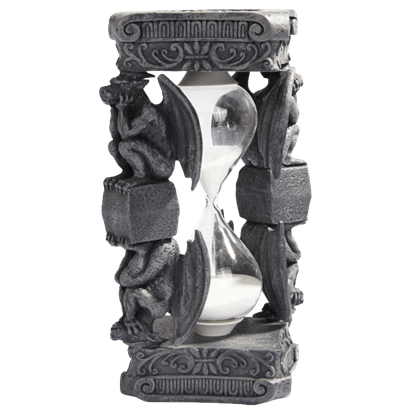 Item # CC9633
Stone sentries tend to have a lot of time on their hands, so it makes sense that they make great guardians for the sands of time. This Thoughtful Gargoyle Sandtimer utilizes four of them to create a truly impressive looking piece.