We offer an incredible range of swords, so you are sure to find a sword that suits your needs and taste here. In this category, we have organized our swords by name, by use, and by manufacturer to make it easier to find the sword for you. Our sword selection is expansive, ranging from swords used in the times of ancient Rome and Greece, the age of Vikings, and on through the medieval and Renaissance eras and beyond. Here you will find knight swords, Crusader swords, short swords, arming swords, long swords, and even musketeer swords. We have functional swords, decorative swords, and training swords for honing your skills. When you shop swords by manufacturer, you will find swords by well-known brands like Windlass, Cold Steel, Hanwei, Darksword Armory, and more. If you are looking for a sword of any kind, then you have come to the right place.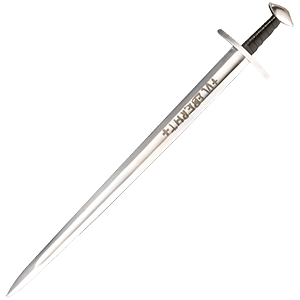 Read More
It should come as no surprise that we have a lot of swords. And in offering so many swords, we have several that fall into the same style of sword. Heck, we offer so many swords that sometimes our swords wind up having the same name, with the only difference being in minute details on the weapon as a whole! So to make your searching easier, we have made a Swords by Name category that sorts each sword by its name and style. So if you want a long sword and did not want to bother looking through each and every sword to find the ones you like, you can skip that step, come here to our Swords by Name section, and view only our long swords; the same can be done with dozens of other styles, including hand and a half swords, bastard swords, short swords, arming swords, great swords, claymores and flamberges. And if you are looking for swords that feature the same influences, you will still find them here. So even if you just want swords that are all Robin Hood swords or all Templar swords or Masonic swords we have those here. If you have got a specific type of sword you want or need then you can find it quick, here at our Swords by Name category.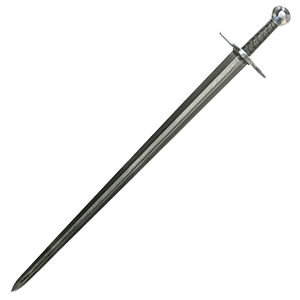 Read More
Its not uncommon to find that while you might have a need or desire for a sword, the design and make of the sword are two things that have been left undecided. If this is your dilemma, then perhaps you should browse our Swords by Use section. Here in this section, you will find virtually all of the swords we offer, divided up into categories that will help you locate the sword you seek to fulfill whatever need it is you have. If you need functional swords, you can find them here: some are sharp, some are blunted, all are battle-ready, and so long as you treat your sword properly, it will withstand the test of time and see you through battle after battle. And when then ravages of time do catch up to your functional sword, you can also find replacement blades here, as well. If you need training swords, we have a variety of wooden swords that are perfect for sparring and solo-training. For self-defense, nothing levels the playing field like a good sword cane, which we also carry here. And of course, if you are just looking for a beautiful display sword, we have dozens of decorative swords that are made for collection and display. In short, here in our Swords by Use section, you will find swords that fulfill virtually any use you could put a sword to, whether you are training, battling, sparring, acting, demonstrating, or even decorating.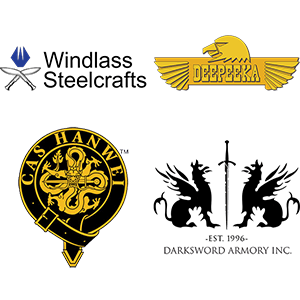 Read More
We offer medieval swords by brand or manufacturer. We have every known and most popular sword maker brands listed below. This makes it easy to find the exact sword you are looking for. We have sword manufacturers that make functional medieval swords like CAS Iberia, Hanwei, Valiant Armoury, Cold Steel, Windlass Steelcrafts, Ritter Steel and Stage Steel. These medieval swords are great for re-enactments, live steel fighting, stage fighting or even practice. Other medieval sword manufacturers we carry make decorative medieval swords like Acero Toledano, Marto, Denix, Art Gladius and United Cutlery. Decorative medieval swords are great for office and home decor, stage props and costumes. These manufactures below design and make the most popular swords from Medieval and Renaissance times to Oriental cultures. Some of our medieval swords are great for in SCA events, LARP and LRP events and renaissance fairs.