Frightfully fun, the haunting figures of the Halloween Village Collection by Department 56 will send shivers of excitement down your spine! Let your nightmare town take on a life of its own with the spooky buildings and characters that we carry here. The Halloween village building options include a ramshackle train depot, a freaky carnival show, several witch cottages, a dreadful diner, and Harley Davidson hang-outs, among others. Many of these pieces can be plugged into an electrical outlet to spread an eerie glow throughout your supernatural scene, and some offer additional animation or audio features that make them truly hair-raising collectibles. Choose from a variety of colorful and creepy Halloween figurines to populate your boneyard, such as a werewolf biker, a ghastly clown, wicked witches, and hungry zombies. These hand-painted porcelain figures will make a chilling addition to any miniature Halloween town!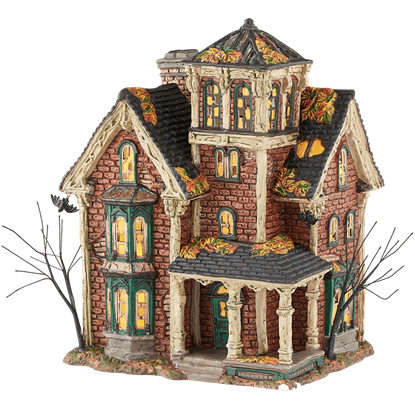 Item # EN-4051007
Bats hang from the eaves and autumn leaves adorn the roof of Ghastlys Haunted Villa, a collectible statue from the Halloween Village collection by Department 56. This abandoned mansion is illuminated from within by a green light bulb.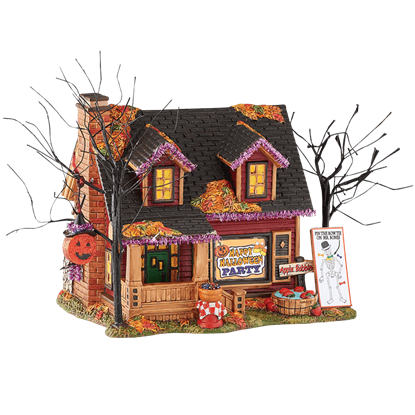 Item # EN-4051008
With games galore and fantastic, metallic and purple colored decorations adorning this festive home, the Halloween Party House, part of the Halloween Village collection by Department 56, is a fun-filled addition to any spooky village.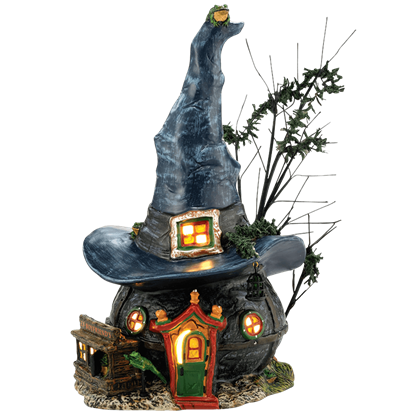 Item # EN-4036591
The spookiest neighborhood in any Halloween village, Witch Hallow holds the residences of many creepy characters. The Toads and Frogs Witchcraft Haunt will give you shivers of delight with its wickedly wonderful details.