Shop here for all our leather body armour. This includes leather breastplates, brigandines, cuirasses, and harnesses. Whether you are dressing up for a LARP battle, reenactment, or need an armoured look for a medieval or fantasy costume, you will find a plethora of leather body armour here. Made of high quality leather, the majority of our leather armour here is crafted by hand. Wear our medieval leather breastplates over gambesons or over chainmail. Our leather brigandines are versatile late medieval armour staples. Finally, our medieval leather cuirasses and harnesses cover both front and back. Shop an incredible variety of leather body armour styles, from historically-inspired pieces like Praetorian soldier armour to elven armour and womens leather armour corsets. So if you are seeking the central piece of your next armoured look or leather protection for light reenactment, take a look at our selection of leather body armour here.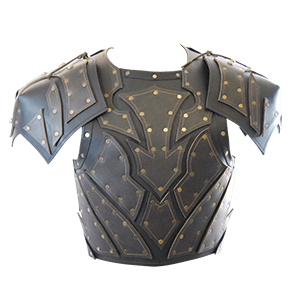 Read More
A breastplate is a plate or set of plates that covers the front of the body from the neck to a little below the waist. Breastplates are the oldest pieces of body armour and were worn in the middle ages. Medieval Collectibles leather breastplates are hand crafted from 13/15 ounce and 7/8 ounce quality leather. Our leather breast plates are great to wear alone or over a chainmail shirt. Our leather breastplates are great for LARP and LRP events as well as SCA events. Some of our Leather breastplates are custom made to your measurements to ensure a good fit, while others are offered in adjustable sizes. Medieval Collectibles has many styles of leather breastplates that range from medieval breastplates to fantasy breastplates.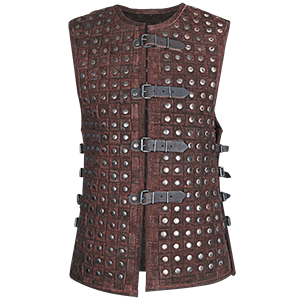 Read More
Leather brigandines are a revised version of the earlier coat of plates. Brigandines featured small leather or steel plates sandwiched in between two pieces of suede. Leather brigandines first surfaced in the 14th Century and became very popular in the 15th Century. Brigandines made of leather were used by everyone, from archers and knights to bandits and outlaws. Our leather brigandines allows re-enactors flexibility while providing protection to the upper body. Our leather brigandines are made of quality leather and come in a variety of sizes and colors.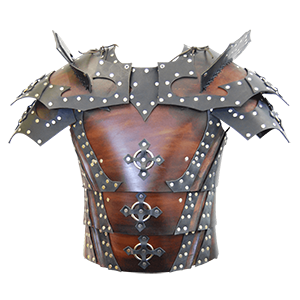 Read More
A leather harness is a piece of armour that includes both a breast and back plate, also known nowadays as a cuirass. We have many different styles of leather harnesses for you to choose from. Elven warrior armour, Roman Lorica segmentas, and Greek hoplite armour, as well as classic Medieval designs, are just a couple of the leather cuirasses and leather harnesses that we carry. A leather cuirass provides complete full upper body armour that protects the chest area from the shoulders to the waist line. Some of our leather harnesses are custom made to your measurements to provide the proper fit and protection during an SCA event.