When you need an accent piece that will stand out from the rest, check out the fantastic Wiccan accessories that we carry here. We provide a number of different kinds of items including Wiccan bracelets, Wiccan hair accessories, and Wiccan pendulums, among others. Our Wiccan pendulums display small censers that allow them to be used for aromatherapy as well as dowsing. These unique pieces feature popular Wiccan motifs and symbols in their designs, such as pentagrams, ravens, crescent moons, and more. Each accessory has been crafted with care from high quality materials. Take a moment to browse and find the perfect Wiccan accessory for your look or for ritual use.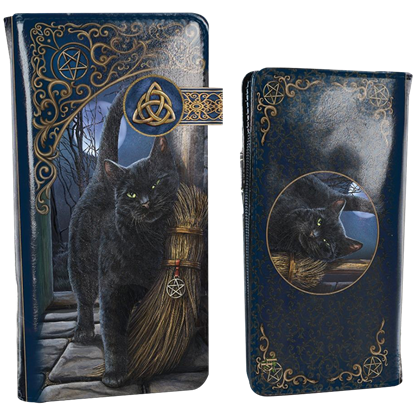 Item # CC12918
Flaunt your taste for mystic style anywhere you go with the A Brush With Magic Black Cat Wallet. Gorgeous artwork by Lisa Parker decorates this wallet, depicting a moonlit black cat brushing its cheek up against a witch broom.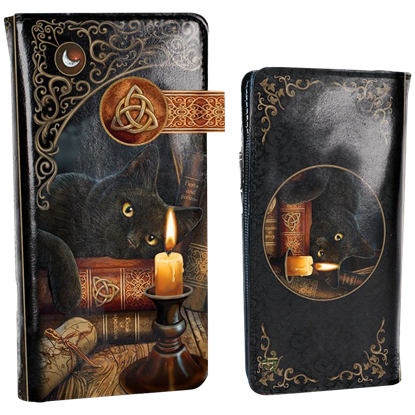 Item # CC12917
Lounging on a pile of spell books, this black cat familiar awaits the time for magic. The Witching Hour Black Cat Wallet features the beautiful art of Lisa Parker all over with select embossing that makes parts of the graphic pop.