When it comes to turning your home into a medieval castle or creating your own throne room, you need the right furniture. We offer a select variety of medieval and fantasy furniture options that will help you embrace your favorite type of decor in a way that cannot be understated. Shop here for our medieval and fantasy seating options and surfaces, including chairs, thrones, stools, tables, desks, and pedestals. From intricately detailed gothic thrones and glass top dragon statue tables to medieval wooden folding chairs and stools, you will find all our different furniture types here. When you want to accent your home with historical, Celtic, fantasy, or gothic style, we have the themed furniture pieces to help you achieve your dreams.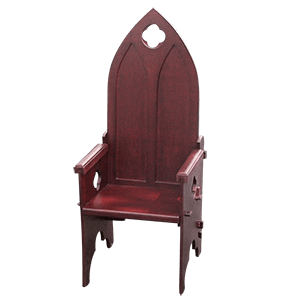 Read More
If you have ever wanted to sit on your own medieval throne, you have come to the right place. Here you will find all our medieval and fantasy chairs, thrones, and stools that will add undeniable style to your home or reenactment setting. We offer life size cold cast resin thrones that have been hand painted to look like ancient stone, as well as gothic thrones and chairs styled to look like they are made of weathered human bones. We also carry folding stools and chairs that are great for medieval camping and historical reenactment. Whether you wish to feel like the noble ruler of your own kingdom or simply need something to sit on with authentic medieval styling, shop this category for all our medieval and fantasy seating options.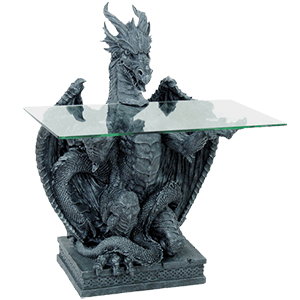 Read More
Every home needs a place to set something down. Check out this section for all our tables, desks, and pedestals that stand out from your typical home decor. We offer a varied selection of fantasy tables here, many featuring gorgeously detailed statues as their bases and glass tops. Shop everything from medieval, Celtic, and steampunk tables to mermaid tables, gothic dragon tables, and even Roman goddess statue tables here. These fantasy glass top tables, end tables, desks, and pedestals are not only great for bringing your favorite styles to your decor, but are also great surfaces for presenting statue collections or other displays.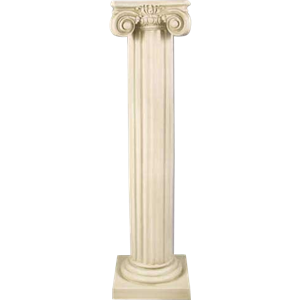 Read More
Our Columns and Pedestals add medieval style to your home decor in a big way. Use greco-roman inspired pedestals to display statues, finials, and other lawn ornaments. Columns add magnificence to indoor and outdoor decor. Build a medieval garden with decorative outdoor columns. Renaissance columns and pedestals make your home feel like a stately manor or palace. We offer Ionic columns and Corinthian columns inspired by Greek and Roman architecture. Shop all our medieval, Renaissance, and Roman architecture columns here. Make your home or garden utterly majestic with our high quality architectural columns.