Sometimes, a crown of gold and silver says all the wrong things. This is because crowns of gold and silver, while rarely uninspiring, are really more of a complement to kings and queens rather then to natural beauties and fairies. So if you need a crown that does more than show regal and imperious appearance, then you might want to consider any number of our floral head wreathes. These beautiful flower crowns are a perfect accent to natural beauty. Our floral head wreathes are hand-made from a dazzling array of beautifully colored silk flowers and greenery, ensuring that while these floral crowns will not carry the fresh scent of flowers, they also will not ever wilt or wither. It goes without saying that these beautiful floral head wreathes make for great accessories for any woodland dwellers, including fairies and the fair forest folk; they also make for utterly fantastic crowns for any noble woman or princess who is less interested in her regal appearance and more interested in a natural beauty accented by a tasteful array of flowers upon her brow. And these floral head wreathes are great for enchanting fairies and beautiful princesses of all ages; they are fully adjustable, ensuring that little girls and grown women can enjoy a beautiful crown of flowers atop her head.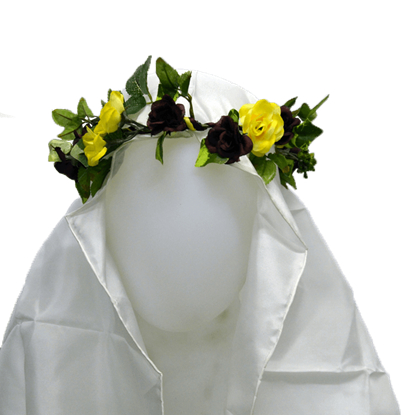 Item # LB100
Our floral head wreaths are hand crafted from wrapped floral wire and then are adorned with colorful silk flowers and greenery. This particular style features deep burgundy and yellow colored roses intertwined with matching ribbons.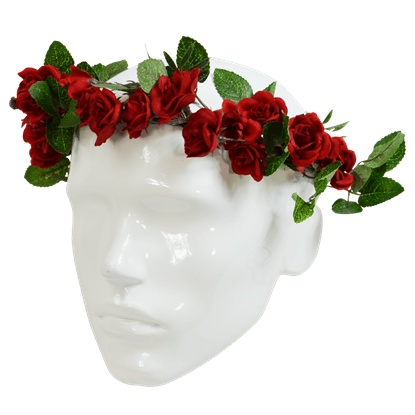 Item # LB103
For a truly elegant yet restrained style, nothing accents a look quite like a floral head wreath. This Red Rose Floral Head Wreath has just the right mixture of rich coloration and style to go nicely with any look you might wear.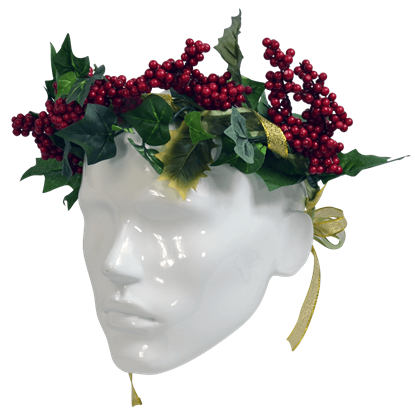 Item # LB104
When you deck the halls this holiday, do not forget to adorn yourself properly. This Winter Berry Floral Head Wreath is a holly, jolly accessory for the winter season, although that does not restrict it from looking at other times!