Turn to us at Medieval Collectibles when you need assembled womens period outfits. We have put together many different medieval outfit packages, womens historical ensembles, and complete period clothing sets. Save money by getting your entire outfit in one bundle rather than spending time searching for individual pieces. We provide complete medieval maiden outfits, womens Renaissance nobility ensembles, pirate mistress outfits, Scottish lady outfits, country wench clothing sets, and more. These womens period clothing packages are great for medieval fairs, bridal parties, theatrical productions, medieval themed weddings, Halloween, and many other occasions. All of our womens medieval outfits are composed of real clothing items - not costumes - that are made from top quality materials. These period clothing packages will lend you the authentic medieval look that you desire.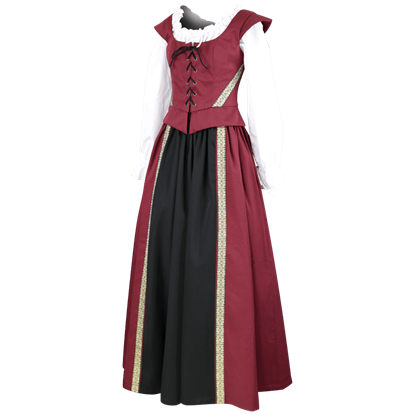 Item # MCI-511
The ideal outfit for medieval markets, Renaissance faires, and more, the Celtic Maiden Skirt and Bodice Ensemble effortlessly gives you style straight out of a storybook with three pieces sold together as a beautifully matched set.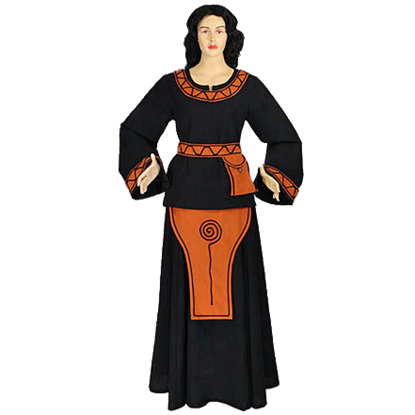 Item # MCI-462
The Medieval Chemise and Skirt Set is an inspired take on historic style, handmade from 100% natural cotton. This two color outfit consists of a blouse length chemise and skirt, featuring a built-in pouch at its belted waist.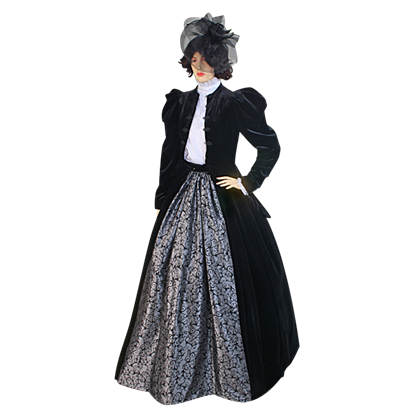 Item # MCI-341
Building your very own Victorian or Renaissance look isn't nearly as hard as it seems. At least, it's not when you have a few good pieces, like this Victorian Jacket and Skirt, floating around in your wardrobe, just begging to be put to good use.