Decorated with intricate, Celtic knot work, the Gaelic LARP Collection is expertly crafted for authentic and awe inspiring appearance as well as for ever important LARP safety. This collection includes LARP Axes with golden colored designs adorning their blades, elegant and powerful LARP Claymores, beautifully detailed round LARP shields, and more, all incredibly detailed for a historic appearance. Made of thick, industrial quality foam that resists shredding, each fiberglass core weapon features a latex coating and an elastic gloss finish for extra resiliency. The shields are crafted from the same, closed cell foam coated with latex and elastic gloss as well. With their authentic coloring, intricate detailing, and historic appearance, the Gaelic LARP Collection is sure to make a statement at any LARP event and, with proper maintenance, should last for LARP battle after battle.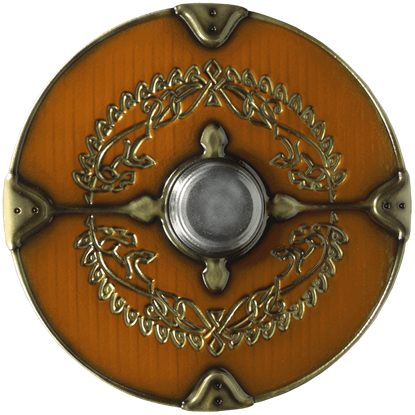 Item # FD-1036
More than just protection, a trusted shield reveals what you stand for in battle. Whether you fight for your family, team, or yourself, the Gaelic Baldur Shield ensures you will be represented in style at your next LARP event.
Item # FD-1038
Over a background of bright red, a golden dragon curls in an endless circle. The Gaelic Morfang LARP Shield displays this Celtic-inspired design on its front with excellent attention to detail, expertly crafted for an authentic look.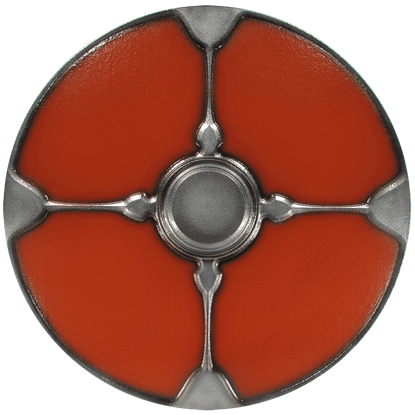 Item # FD-1039
Defense is essential during any LARP battle, and the Gaelic Red LARP Shield is ready to protect in authentic style. Made of polyethylene foam, this LARP shield has been expertly crafted with eye-catching and realistic details.