A pentagram is the shape of a five-pointed star drawn with five straight strokes. The word pentagram comes from the Greek word pentagrammon, a word meaning roughly five-lined or five lines. We carry a varied selection of gothic pentagram rings, including pewter rings handmade with English pewter in Sheffield, England. All of our pentagram rings have a distinctive gothic style to them that would work great with any medieval or gothic costume, as well as unique accents to everyday and special occasion outfits. We have pentagrams on crosses, in circles, or on decorative gothic designs.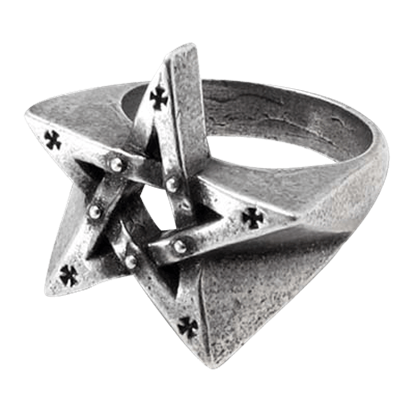 Item # AG-R175
The pentagram is an ages-old symbol that remains a powerful and popular emblem, even today. The Pentagration Ring features the traditional pentagram with a twist, evoking a modern style while staying true to its roots.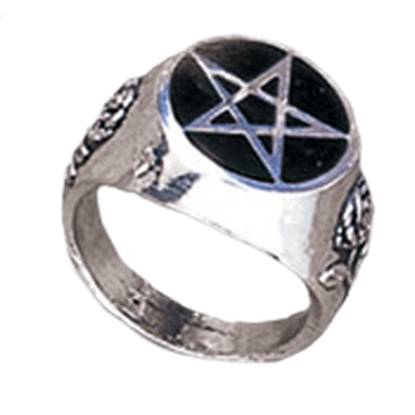 Item # AG-R23
The Roseus Pentagram Ring features a classic black enameled pentagram, highly polished, and flanked with Alchemical roses of wisdom. This Gothic ring is hand cast from fine English pewter for a great gleaming look.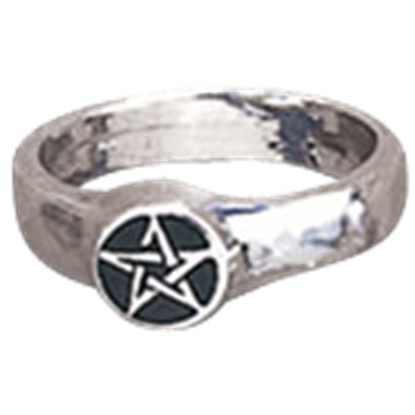 Item # AG-R38
The pentagram is a powerful sigil, so those who wear it must sometimes be careful. For the discreet goth, though, this Soligram Signet Ring offers a pint-sized pentagram that can be easily worn with just about any look or style.