Why not complement your Neo-Victorian outfit with a nice pair of steampunk shoes? We offer a great selection of fashionable steampunk footwear designed for all tastes. With styles for both men and women, our Neo-Victorian shoes range in appearance from classic period footwear to eclectic cyberpunk and dieselpunk designs decorated with gears, spikes, and chains. Our steampunk combat boots, steampunk platform shoes, steampunk stilettos, and steampunk sneakers look great with modern apparel, while our Victorian riding boots, buckled ankle boots, Mary Janes, and leather boots can easily suit period garb. No matter what kind of ensemble you have, you can be sure to finding eye-catching Neo-Victorian footwear options here.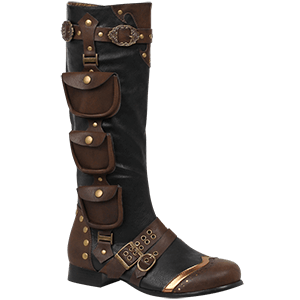 Read More
Steampunk fashion combines Victorian sensibilities with science-fiction technology, creating a blend of history and the future that results in a range of exciting styles. Complete your latest steampunk ensemble with the help of the mens steampunk footwear that you can discover here in this section. Our mens steampunk boots and steampunk shoes include a variety of eye-catching designs with interesting buckles, decorations, and other Neo-Victorian details. Several of our designs come in black or brown, giving you options to help you find the right look for your steampunk outfit. Whether you want to dress up like a steamship captain, a steampunk gentleman, or a quirky cyberpunk inventor, you will find high quality steampunk footwear options for your attire here.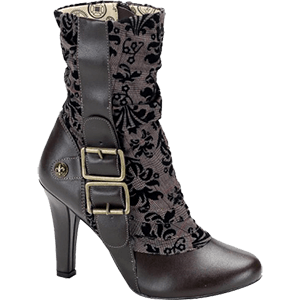 Read More
Blending the romanticism of the Victorian era with science fiction technology, the steampunk aesthetic covers a wide range of styles from apocalyptic and cyberpunk fashions to historical clothing designs. These steampunk heels, steampunk flats, and steampunk boots display the full spectrum of Neo-Victorian design, showing off buckles, studs, fur trim, lace, buttons, and other eye-catching ornamentation. Our womens steampunk footwear includes steampunk shoe types like combat boots, stilettos, pumps, booties, platform shoes, Mary Janes, oxfords, knee high boots, and many more to give you plenty of options when picking out your next pair. You will look stunning from head to toe whenever you choose a pair of these womens steampunk shoes to finish off your next ensemble!