Transform yourself into the ghoul of your dreams with the fantastic womens zombie t-shirts you will find here. These ladies zombie tees will provide any fan of the undead with clever designs inspired by the shambling horde. We offer an assortment of funny and gory zombie-themed shirts for gals that make excellent casual wear options. Our womens zombie humor shirts show off zombie crossing signs, zombie pin up art, and other amusing designs. Alternately, several of our zombie graphic shirts embody a creepier look with reaching zombie hands and bloody text. We also carry licensed iZombie t-shirts for fans of the show to enjoy. If you love zombie style, then be sure to collect a few of these undead graphic tees to add to your wardrobe!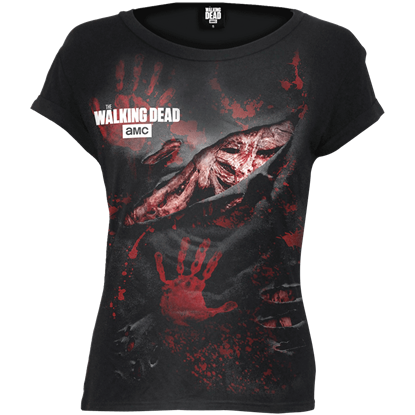 Item # SL-00754
When it comes to zombies, no one does it better than the Walking Dead. Now you can portray the grotesque undead with the Walking Dead Cap Sleeve T-Shirt, the exceptional garment ideal for all wardrobes of zombie enthusiasts!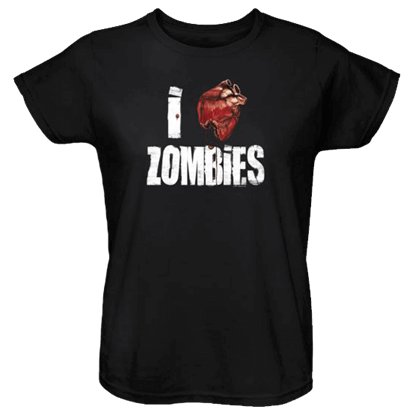 Item # ZB-3025
The Womens Zombie Love T-Shirt takes the classic pictogram of I Heart You and zombifies it. The message is basically the same, professing a love of zombies through words and a heart, although this heart is more bloodstained.