While steampunk earrings and necklaces are great, we do not restrict you to just those forms of steampunk jewelry. Our steampunk brooches and steampunk pins make fantastic additions to any Neo-Victorian ensemble. We carry a wide variety of steampunk lapel pins for airship captains, military officers, and mechanical artificers of all kinds. Our steampunk kilt pins and utility pins can be displayed on your ensemble or even messenger bags or other accessories. Many of our Neo-Victorian pins and decorative brooches feature industrial designs with propellers, gears, cranks, clock parts, and more. Other items twist traditional Victorian cameo brooch styles with nautical and apocalyptic designs that are sure to look great pinned at your collar. No matter what your ensemble is, you are sure to find an excellent finishing touch here in this category.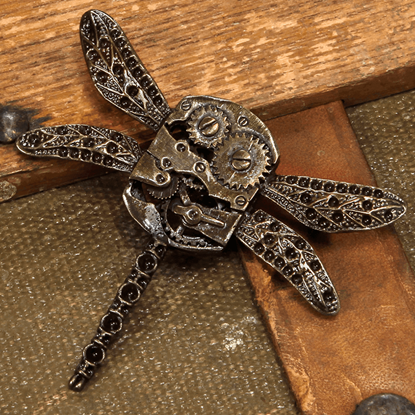 Item # LU-540131
Molding technology and nature into one, this Antique Dragonfly Gear Pin is a great accessory that looks like an impressive Steampunk invention consisting of machined dragonfly wings attached to a series of gears and mechanisms.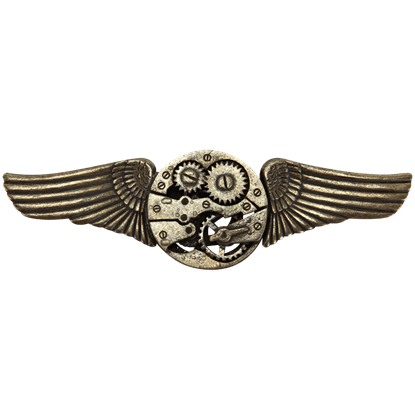 Item # LU-540130
Earning your wings on an airship is a grand occasion. Commemorate your accomplishment by wearing this Antique Gear Wings Pin on your lapel. This decorative brooch is an excellent addition to any Steampunk or Neo-Victorian outfit.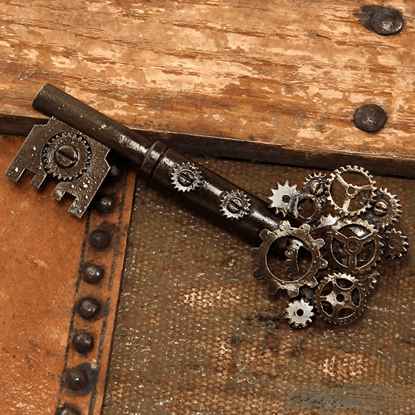 Item # LU-540132
Rarely is it the size of an accessory that matters. What is truly important is the level of detail, and luckily enough, the Large Antique Key Gear Pin is an impressively detailed piece that is as eye-catching as it is unique.