We are proud to announce our Tristan and Isolde collection, which includes replica clothing and Tristans sword. Tristan and Isolde was a blockbuster film produced by Ridley Scott. We have the authentic movie clothing like the Tristan Shirt and the Tristan Leather Jerkin. The Tristan sword has a well-tempered high carbon steel blade and a fuller down most of the sword. The Tristan sword is fully functional and can be used in sword fighting. Tristan and Isolde is a sweeping, action-packed saga of epic battles, political intrigue and forbidden passion, set in a time when the lines between heroism and savagery were etched in fire and carved out with broadswords. After the fall of Rome, visionary warlord Marke (Rufus Sewell) seeks to unite the squabbling English tribes to form one strong nation and defeat brutal Irish King Donnchadh. But when Lord Markes greatest and most loyal knight, Tristan (James Franco), falls in love with Isolde (Sophia Myles), a beautiful Irish woman, it threatens to destroy the fragile truce and ignite a war. In the spirit of Braveheart and A Knights Tale, Tristan and Isolde is a rousing tale of trust and treachery that will leave your breathless!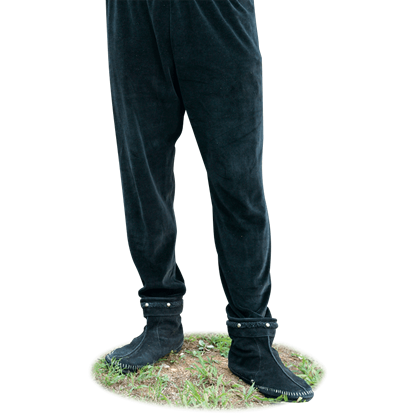 Item # 100836
Our comfortable fitting pair of black stretch cotton velvet pants also do double duty as tights. They have an elastic waist for adjustability. Our Mens Velvet Pants go nicely with any Medieval or Renaissance outfit.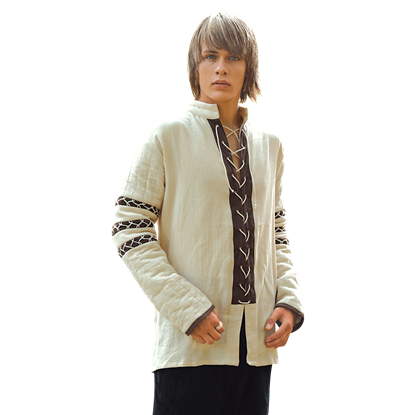 Item # 100766
The Tristan Padded Shirt is a lace-up cotton gambeson-style shirt that can be worn as a standalone garment or as an undershirt with other pieces. The padded sleeves are decorated with a stylish Nordic string design.