When the weather turns brisk, you will not have to feel the grasping fingers of the winter chill along your skin any longer! We offer a selection of warm and comfortable zombie hoodies and zombie jackets that can serve as outerwear to keep away the cold. Our zombie humor sweatshirts provide a unique perspective on these gruesome creatures, using puns of pop culture icons to create amusing designs. For a creepier look, check out the gory zombie styles that we have available with reaching hands and bloody text. No matter what style of zombie apparel you prefer, make sure to pick up these zombie sweatshirts so you can wear your favorite zombie designs at any time of year!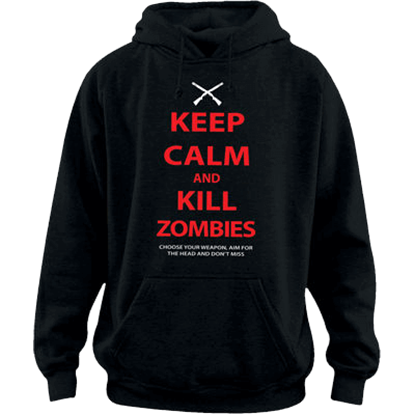 Item # ND-85101
The Keep Calm Zombie Hoodie offers some great advice in the event of a zombie apocalypse - just keep calm and kill zombies! This black hoodie features red and white lettering with an image of crossed guns at the top.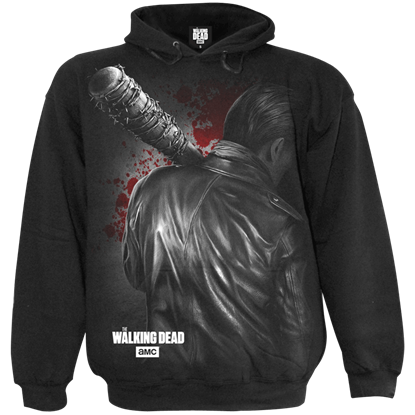 Item # SL-00824
With such an intense character, one may wonder if they could ever portray such genuine savagery as that of Negan. With the Negan Just Getting Started Hoodie, you can express his unrelenting ferocity in comfortable gothic style.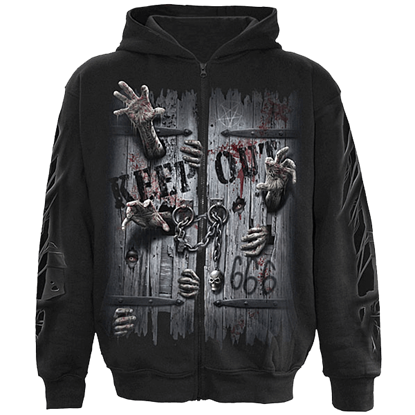 Item # SL-00426
Do you dare defy the warning and enter through these hellish gates? Worry not, for the zombies are safely contained...or are they? This Zombies Unleashed Zip Up Hoodie brings more than a small touch of undeath to your contemporary and casual style.