We are proud to announce a new clothing line from the Showtime series The Tudors. We carry all the licensed Tudors clothing from characters King Henry, Anne Boleyn and Queen Katherine. Shop here for Tudor authentic jewelry, jousting helmet, and the Tudor Sword. All these Tudor replicas are of high quality and will make you look like the king and Queen from the Tudors drama. The Tudors is a drama that focuses on the early years of King Henry VIIIs nearly 40 year reign (1509-1547) of England. The first series takes a look at the often overlooked, early political relationships as well as Henrys trysts with such notable women as Katherine of Aragon and Anne Boleyn. In addition to alliances with famous female consorts Catherine of Aragon and the infamous Anne Boleyn, the series delves into Henrys political relationships with philosopher important figures like Sir Thomas More, Cardinal Wolsey (head of the Catholic Church of England during its break with Rome) and Charles Brandon, Duke of Suffolk, who was Henrys best friend and unofficial advisor. The second series looks at King Henrys struggle with the Pope over his divorce, and his marriage to Anne Boleyn as well as the creation of the Church of England. Season two will further explore King Henrys history, eventual beheading of Ann Boleyn and the Reformation and the birth of his daughter Elizabeth. The series is shot on location in Ireland. Michael Hirst, writer of the Oscar-winning movie Elizabeth, is the series creator, writer and executive producer. Tim Bevan, Eric Fellner, Michael Hirst, Gary Howsam, Morgan OSullivan and Ben Silverman are the executive producers. Teri Weinberg is the co-executive producer.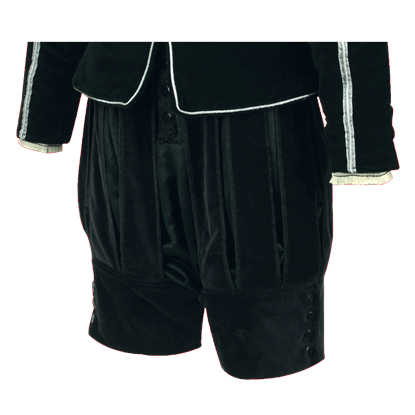 Item # 882008
A perfect complement to our Black Velvet Doublet, these black-on-black brocade paned pants have open slashes and a button-up front. They create a very noble look. They are offered in small/medium or large/x-large.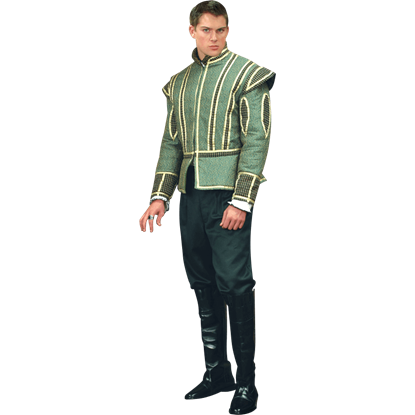 Item # 882014
These are period black knee britches with a royal satin like finish. They sport a button-up front and lace-up back with laced calves. Made from rayon, they were inspired by the Showtime Original Series - The Tudors.