A good pair of shoes can make or break an outfit, which makes our gothic footwear an essential part of any dark ensemble. We carry an excellent selection of mens gothic boots and womens gothic shoes in a range of sizes and styles. Our black gothic boots come in many eye-catching designs with spikes, buckles, chains, and other ornamentation. Never fear, though, since our gothic high heels feature many similar style options! We carry combat boots, gothic platform shoes, gothic stilettos, gothic Mary Janes, gothic dress shoes, and more, ensuring that you can find something to suit any occasion. For even more dramatic designs, check out our gothic boots and shoes decorated with knuckle dusters, skulls, bullets, blood spatter print, and other bold elements. Plan ahead for your next outing by bringing home some truly spectacular gothic footwear!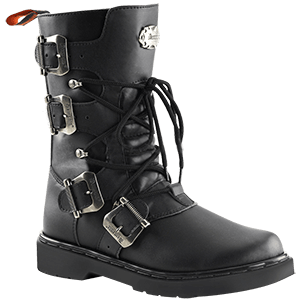 Read More
Your favorite gothic outfits should have equally great gothic shoes as their finishing touch. We carry a wide selection of mens gothic footwear perfect for your needs. Our gothic combat boots, skull boots, black leather boots, and gothic dress shoes feature bold details like chains, rivets, large buckles, brass knuckles, decorative bullets, and more. Several of our gothic boots feature a platform for a dramatic look, and others fit all the way up to the knee for max coverage. Suitable for casual wear or formal occasions, these mens gothic shoes come in a range of sizes to ensure a great fit. No matter what kind of gothic fashion you prefer, you can find the right pair of shoes to suit your tastes here.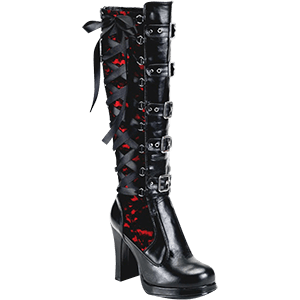 Read More
Ranging from sassy to fierce, our womens gothic footwear embraces a wide array of styles to ensure that you can find the look you need to complete your gothic ensemble. Available in many different shoes types, our gothic high heels include stilettos, pumps, platforms, wedges, and more. Our womens gothic boots feature combat boots, go-go boots, knee high boots, ankle boots, and other designs. Our gothic flats range from ballet flats to Mary Janes, rounding out our selection. Certain designs display details like studs, spikes, chains, blood spatter, and skulls, while others showcase lace, buttons, and rhinestones so you can be sure to find something of interest for daily wear, formal occasions, or parties. Make us your first stop when you need a stunning pair of ladies gothic shoes.