Complete your alternative fashion ensemble with the perfect pair of mens steampunk boots from Medieval Collectibles. We carry an excellent selection of mens steampunk footwear in dramatic styles featuring cogwheels, metal plates, and other mechanical bits as detailing. Deep treads provide these mens boots a fierce look and great traction. Our inventory includes mens knee high boots for eye-catching ensembles and lower cut boots for everyday attire. These steampunk combat boots and leather steampunk shoes go great with apocalyptic styles, cyberpunk fashions, and sci-fi cosplays. Whenever you are planning out your Neo-Victorian outfit for your next convention or night out, be sure to come here first for unique mens footwear options!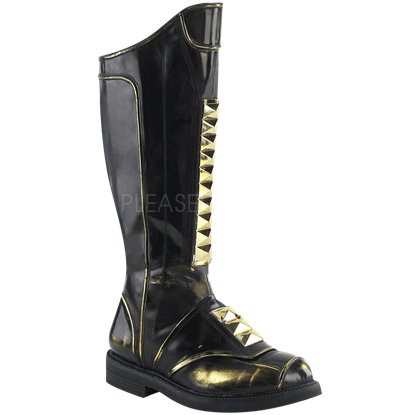 Item # FW2183
If you are going to be engaging in hijinks on an airship, you are going to need a sturdy shoe with terrific traction. The Aviator Boots will help you maintain your footing even on precarious platforms a mile above the London skyline.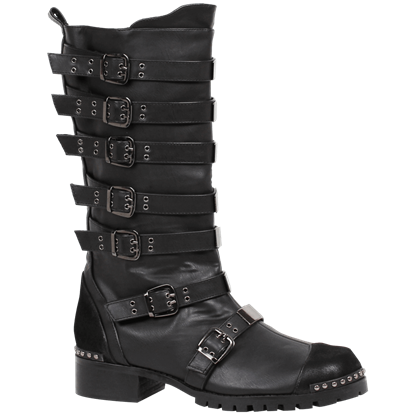 Item # FW1114
Allow ingenuity and imagination free reign when taking the role of Neo-Victorian inventor. No matter the occasion that leads you to partake in a steam-powered adventure, the Buckled Steampunk Boots lends credibility to your look.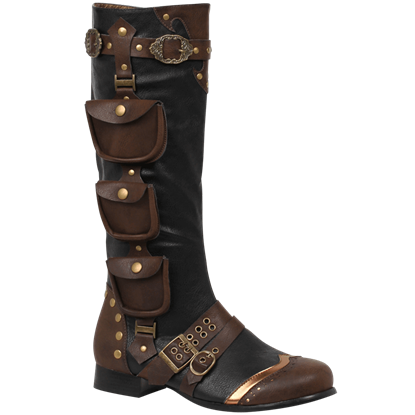 Item # FW1075
You will never run out of storage space when you wear these Steampunk Excursion Boots, featuring snap pouches that run the length of the boot. Decorated with ornate buckles, these mens boots are perfect for inventors and smugglers.