When it comes to displaying your pride in America, our selection of military long sleeve shirts offers you a wide choice of graphics, logos, mottos, and other imagery to suit your patriotic needs. Many of our long sleeve shirts pay their respects to branches of the United States Armed Forces, such as the Army, Marines, Air Force, Navy, or more, and the men and women who fight for freedom. Others honor the history of America, the Constitution, and the many rights it protects. Some are particularly appropriate for specific holidays, whether we honor Veterans, mourn losses, or celebrate victories. With graphics of eagles, flags, soldiers, cities, and more, these long sleeve shirts are sure to suit a variety of patriotic tastes.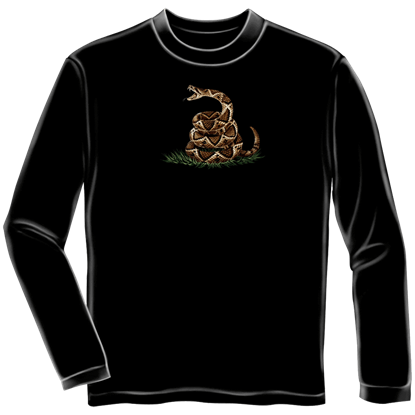 Item # ER-MM103BLS
With its tail curved upwards and its fanged jaw open, the rattlesnake delivers its final warning. With striking detail, the Dont Tread On Me Black Long Sleeve Shirt displays this historic American symbol on both its front and back.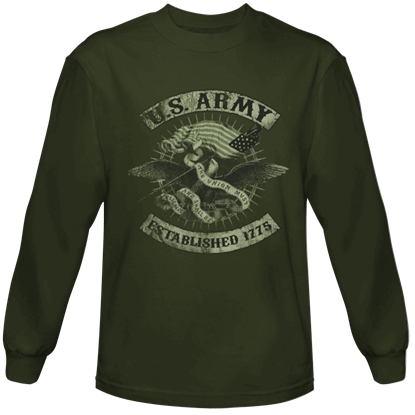 Item # ZB-2018
Do not let chilly weather stop you from showing your love of the armed forces with the stylish Established 1775 Long Sleeve T-Shirt. Combining comfort and pride this long sleeve shirt is ready to go where ever you want to go.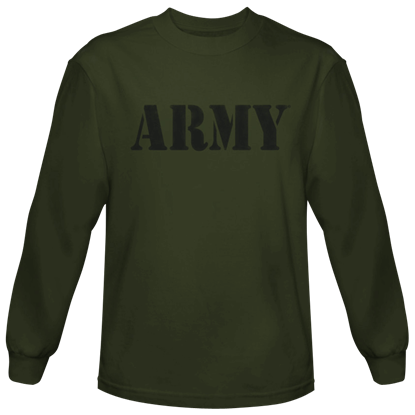 Item # ZB-2015
If your morning PT starts to get a little chilly then layer up with the classic Green Army Long Sleeve T-Shirt. This reliable and comfortable shirt is ready for any real life or training scenario you can put it through.