There is perhaps no item more essential to the traditional Old West look than a fantastic Western hat. We carry an excellent selection of cowboy hats, sheriff hats, Stetsons, and other leather hats for daily wearing, costuming, historical reenactments, or use as stage props. Our Wild West hats come in a range of sizes and styles to suit any need. Whether you want to dress as an outlaw, a U.S. Marshal, a Texas Ranger, a sharpshooter, or a cattle rustler, you can be sure to find an Old West hat to suit your look. Certain designs even feature rattlesnakes, braided bands, airbrushed graphics, and other accents to help them stand out. Our Western headwear will send you back to the time of Calamity Jane, Buffalo Bill, Butch Cassidy, Billy the Kid, Annie Oakley, and other iconic figures of the West.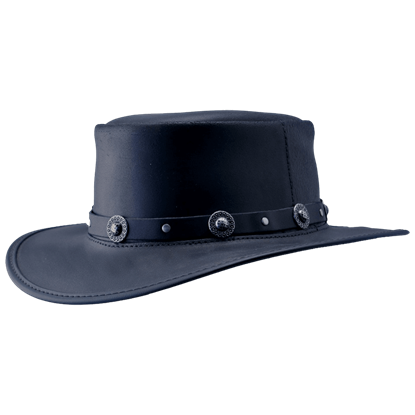 Item # MCI-6047
Reminiscent of a pork pie but with a distinctive brim, the Silverado Western Hat is lean and mean. Leave the brim low for a gun slinger look, or you can bend it up and give it some attitude. This hat is one fierce piece of headwear.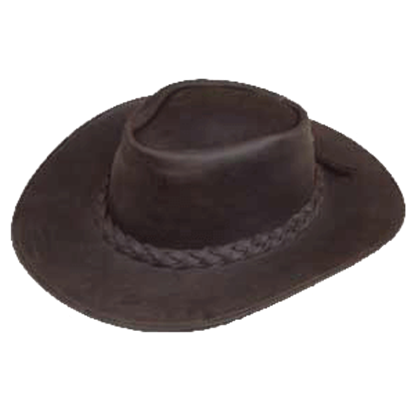 Item # OC015
This leather Western hat is great for finishing your cowboy outfit or use as a stage prop. The Western hat comes in a variety of sizes and is only available in brown. The cowboy hat has a braided leather band around the base of the hat.