These authentic medieval dresses and Renaissance gowns provide a period look that seems straight from the pages of history. The Renaissance dresses and full-length medieval gowns offered by Medieval Collectibles are perfect for Renaissance fairs, historical re-enactments, and even as wedding gowns. Our large selection of period raiment includes period fantasy dresses, ladies surcoats, Celtic dresses, Scottish dresses, peasant dresses, Saxon dresses, and Norse dresses. In addition to these, we supply many elegant ball gowns suited for royalty of different eras such as Victorian gowns, Baroque gowns, Regency gowns, and Elizabethan gowns. Our princess dresses, Lady in Waiting gowns, and noblewoman dresses create stunning period wedding dresses for a unique look on your special day. Many of our medieval dresses are made from fine materials like cotton velveteen or twill cotton with extravagant trims. The type of dress or gown you wore determined your social status in historical times. Who will you be - a Peasant, Wench, Servant, Noblewoman, or Princess?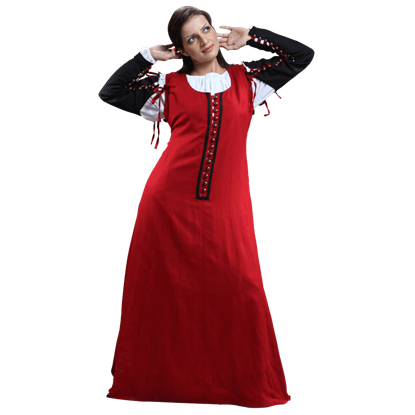 Item # DC1123
The Adora Dress is a simple yet elegant Linen Dress with sleeves. Like most of our medieval dresses, this garment has taken inspiration from original medieval samples. The Adora dress has detachable sleeves of contrasting color.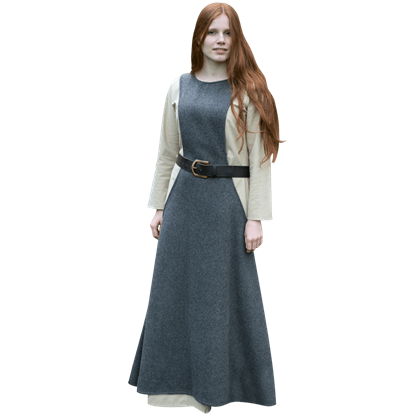 Item # BG-1044
Albrun Pass is a place in the Alps that serves as a mountain trail between Switzerland and Italy. In the Middle Ages, people using that pass would need heavy clothes to keep warm. The Albrun Medieval Surcoat provides such an outfit.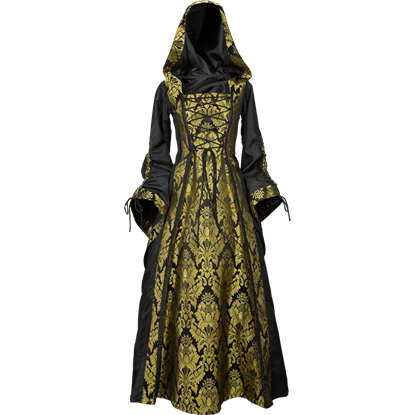 Item # MCI-624
The Black with Gold Alluring Damsel Dress with Hood is perfect for any medieval, Renaissance, or fantasy occasion. Made of smooth black taffeta and ornate brocade, this hooded Renaissance gown has an aura of decadence and mystery.