Keep track of the temperature with our medieval and fantasy thermometers. Nothing will help you know the temperature with more immediacy than with a glance at one of these decorative wall thermometers. In styles that range from gargoyle-themed to dragon, fairy, and steampunk-inspired, our thermometers typically feature both Celsius and Fahrenheit temperature scales. Not only are they helpful for checking up on the temperature, they also bring flair to wall space, lending a touch of fantasy or medieval fashion or further complementing your decor. Shop all our thermometers here, from hand painted, stone-look dragon thermometers to clever steampunk clock and thermometer combinations.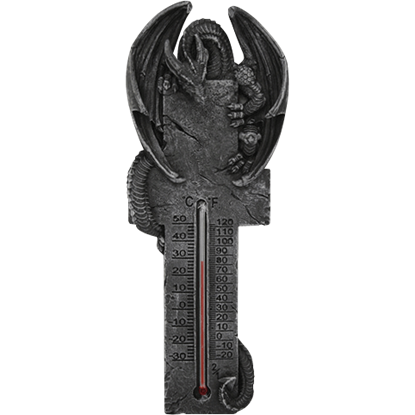 Item # CC10938
In many cultures, dragons are believed to ward off evil spirits and malevolent beings from homes. With the Crouching Dragon Cross Thermometer, you can hope to ward off inclement weather every day with the help of this medieval beast.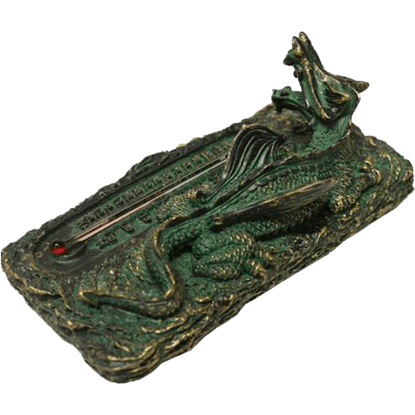 Item # OL-F6796
The Defending Dragon Thermometer is an eye-catching decorative fantasy accent to add to any garden or home. It features a little dragon curled protectively around the temperature checker, guarding it like a treasure from its hoard.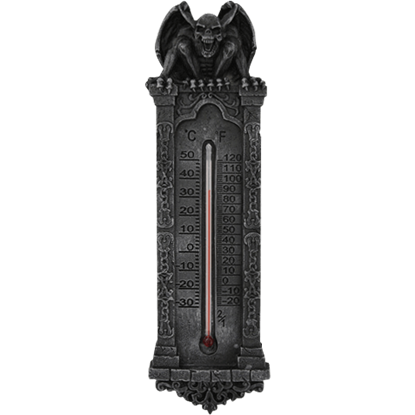 Item # CC10937
A good thermometer is a home accent that you may not realize you need, but it is a must-have for planning out your day. Make sure your thermostat fits into the classical Gothic motif of your home with the Fanged Gargoyle Thermometer.