Patriotism is not just a word to casually throw around or show when it suits you. We definitely do not mind showing that we are patriotic to the core! Here, you can find all manner of All-American shirts that are designed to pay homage to the men and women who signed up to serve with the United States Armed Forces. Many of these ladies military t-shirts are ridiculously awesome with intricate graphics that are sure to impress. Some designs even use a touch of humor to ensure they stand out. Whether you are interested in the Army, Marines, Air Force, Navy, or Coast Guard, you will find a great patriotic shirt among our array of womens graphic tees. Perfect for veterans and civilians grateful for the service of our soldiers, these womens armed forces t-shirts make great gifts, as well.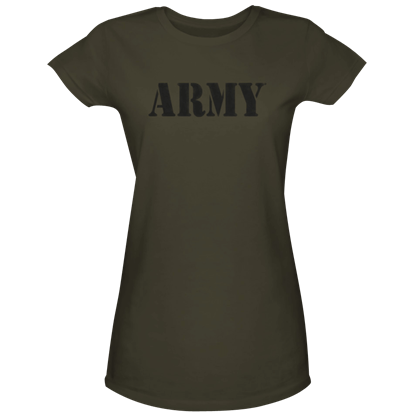 Item # ZB-2016
Ladies can now fall in line and start their day with PT like the men with the Green Army Womens T-Shirt. Comfortable and a great way to show you support for anyone in the armed forces this shirt is ready to finish your look.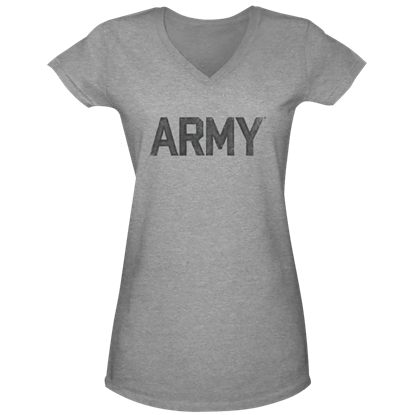 Item # ZB-2013
Ladies fall in line and show off your fashion sense with the Grey U.S. Army Womens V-Neck shirt. You do not have to sacrifice style, comfort, or function with this versatile shirt that boasts the proud ARMY name on it.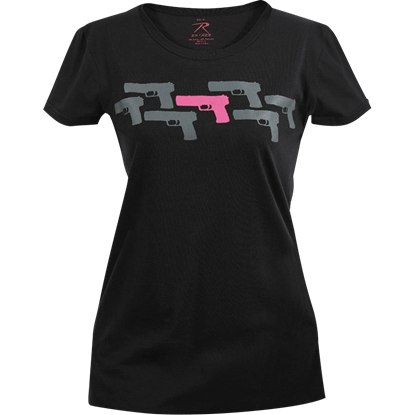 Item # RO-5684
Today you can find ladies that appreciate firearms as much as any guy and the Womens Pink Pistol T-shirt is a prime example of that. This daring and stylish clothing item will allow your girl to show off her love of handguns.